MINERAL FOTO ATLAS
Malanite / Malanit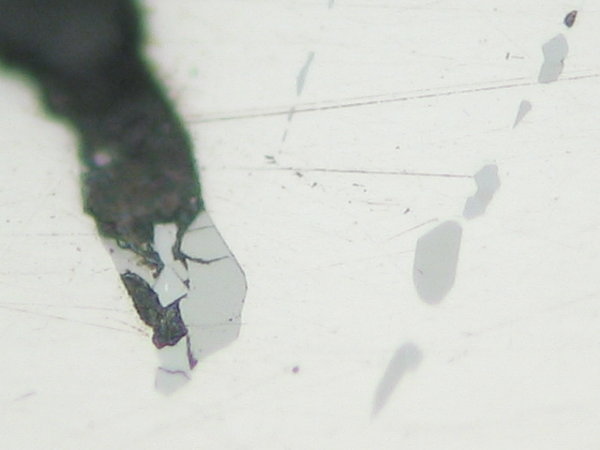 Grey fragmented grain of malanite with slightly darker grey, linearly oriented erlichmannite in isoferroplatinum. Polished section from microbrobe analysis, in reflected light, parallel nicols. Konder, Aldan shield, Russia. Picture size 0.115 mm. Collection Thomas Witzke, foto Bernhard Pracejus.

Graues, zerbrochenes Korn von Malanit mit sehr schwach dunkler grauem, linear orientiertem Erlichmannit in Isoferroplatin. Anschliff für Mikrosondenanalyse, im Auflicht, parallele Nicols. Konder, Aldan-Schild, Russland. Bildbreite 0.115 mm. Sammlung Thomas Witzke, Foto Bernhard Pracejus.



© Thomas Witzke / Stollentroll
Bernhard Pracejus (2007, in prep.): The Ore Minerals under the Microscope - An Optical Guide. Elsevier, Amsterdam.